If you wear makeup and have acne, you have likely heard that all you have to do is stop wearing your face products and your skin will clear up. This common misconception places all of the blame for breakouts on cosmetics and is pretty easy to fall for if you do not understand the real causes of acne.
At its core, acne is caused by bacteria or hormones. Makeup can clog pores and make it easier for your face to break out but on its own, foundation and concealer cannot cause acne unless you are allergic or experience an atypical reaction. In fact, there are some makeup products that even help to clear up your skin as you use them!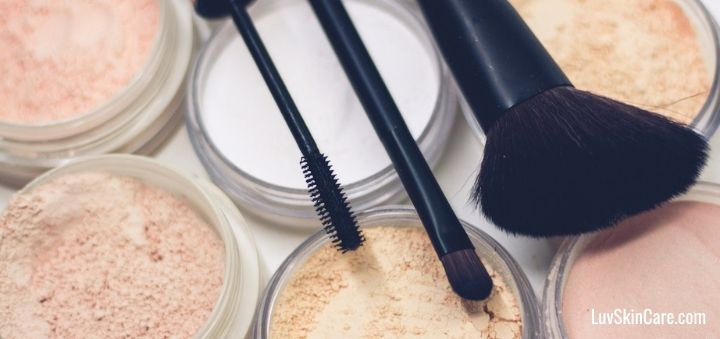 7 Best Makeups for Acne
1. It Cosmetics Makeup
One popular choice for acne fighting face makeup is the It Cosmetics Bye Bye Breakout Full Coverage Concealer. As makeup lovers know, concealer can be absolutely vital in helping hide breakouts and even skin tone.
Even if you do not wear foundation regularly, concealer can be a massive asset to amp up your confidence and give you a little more control over your skin. The It Cosmetics Bye Bye Breakout Full Coverage Concealer acts as a sort of drying lotion while giving full, opaque coverage.
With ingredients like anti-aging peptides and hydrolyzed collagen, oil-absorbing zinc oxide, kaolin clay, witch hazel, tea tree, sulfur, and a gentle AHA/BHA complex, this product's acne ending claims seem pretty believable!
If you use powder regularly, there is also a Bye Bye Breakout Loose Powder by the same brand to keep your skin shine free while being treated by the same breakout fighting ingredient cocktail as the concealer.
2. Maybelline Makeup
If you like liquid foundation and are looking for a drugstore option, the Maybelline Dream Fresh BB Cream is an amazing option. Offering light coverage and a natural finish, this foundation is great for those looking for a little bit of skin tone evening out without the look of a full face. With aloe and salicylic acid in the ingredients list, this BB Cream soothes your skin without clogging your pores.
Its gentle formula works to help prevent allergic reactions while still evening skin tone and offering a blurring effect that gives a skin like finish. For under ten dollars, this classic option is a real winner! The only downside is the miniscule shaderange but the light coverage makes it a bit easier to make it work if you decide to check out this product.
3. Dermalogica Concealer
For stubborn acne spots, the Dermalogica Concealing Spot Treatment is a lifesaver! Similar to the It Cosmetics Bye Bye Breakout Full Coverage Concealer, this product acts as a sort of drying lotion and helps to take out pimples while offering coverage to hide them and allow a smoother application for the rest of your makeup.
Sulfur and Zinc Oxide help take out acne causing bacteria and clear up pore congestion and oil overabundance while niacinamide, zinc gluconate, yeast and cinnamon bark extracts, caffeine and biotin work to help keep your pores clear and inflammation free.
Additionally salicylic acid will works to clear up any existing breakout from the inside out! Offering light coverage, this concealing treatment is perfect for anyone hoping for a natural look with a bit of skin evening.
4. ELF Foundation
One of the cheapest acne fighting makeup products on the market, the ELF Full Coverage Acne Fighting Foundation has a cult following for all the right reasons. Infused with salicylic acid, witch-hazel, camphor, tea tree, and soothing aloe, this foundation delivers a huge dose of powerful acne fighting ingredients.
Additionally, it gives a stunning natural finish that is pigmented enough to hide any discoloration or redness you may be experiencing. For only six bucks, this foundation is a definite winner, especially with a nice primer underneath.
5. ELF Primer
For the same price, ELF also has an acne fighting primer! The Blemish Control Face Primer contains salicylic acid, vitamin E, and tea tree oil to help take down even the toughest blemishes and breakouts, giving you a smooth, soft canvas for any colored cosmetic products.
With a matte finish, this primer will complement any foundation and concealer combo you place overtop without adding any additional glow or color. Additionally, the primer is 100% vegan and cruelty free, making it an even better, ethical choice! This primer has absolutely amazing reviews and for good reason! It is gorgeous!
6. Hourglass Foundation
In stunning, luxe packaging, Hourglass's Immaculate Liquid Powder Foundation Mattifying Oil Free is the epitome of makeup eye candy, just like all of their other products. The simple squeeze tube design helps ensure you get every last drop of product out of the container, wasting none of the foundation.
In a stunning matte finish, this foundation comes in a plethora of shades and looks natural on the face without skimping on coverage. The liquid to powder formula contains oxygenated solvents to help take down acne fighting bacteria without sacrificing any coverage or quality.
7. Alba Botanica Zit Zapper
Our final example, the Alba Botanica Fast Fix for A Pimple Tinted Zit Zapper is a cutely packaged, low cost product that works like a charm. Hypoallergenic and oil free, the concealing treatment is soothing and gentle, making it amazing for those with sensitive skin.
Containing a six percent sulfur acne treatment compound and a blend of willow bark extract and liquorice root, this cream packs a serious acne fighting punch. Offering a blurring effect and smooth, natural coverage, this addition to the Alba Botanica Fast Fix line is a perfect addition to any skincare routine or makeup arsenal, especially for those who adore natural, skin like coverage and lightweight formulations.
For comfortable coverage, this concealer cannot be beat!